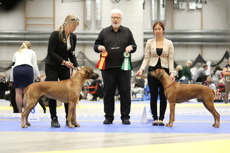 Sundsvall Int. 15/10 2016
Ökl. Exc1, CQ, Best Bitch, CAC, Cacib, Best in opposite sex
Domare: Bo Wallin, Swe
Kritik: Excellent over all, beautiful well shaped head, typical expression with well set ears, excellent neck, topline and tail, excellent chest, beautiful lines in head, well angulated, typical movements with long step, excellent paws, moves with low head, excellent handling.
SWEDISH SHOW CHAMPION!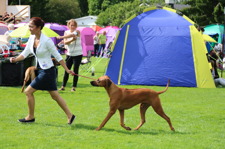 Piteå Internationella 16/7 2016
Ökl. Exc1
Domare: Per Iversen, Norge
Kritik: 2 år, riktigt fin ung tik med harmoniska linjer, välformat huvud, välburna öron, mycket bra hals, bra bröstdjup för åldern, stark rygg, utmärkt lårbredd, ännu ung och behöver sätta sig ner i vinklarna, bra ridge men kunde vara en aning rakare, mycket bra rörelser, välvisad.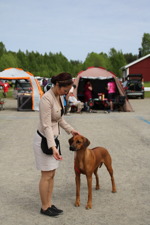 Piteå Nationella 28/5 2016
Ökl. Exc2, CK, 3:e bästa tik
Domare: Lars Widén, Sverige
Kritik: En lovande 2årig tik, feminint huvud där underkäken kunde vara mer uttalad, tilltalande överlinje som avslutas med ett bra kors, bröstkorg under utveckling, välvinklad, mycket välgående, aningen uppdragen buklinje, behöver mer substans i sin kropp, utmärkt päls och färg, korrekt ridge.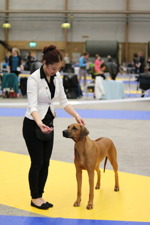 Sundsvall Nationella 9/4 2016
Ukl. Exc3
Domare: Sofie Kringholm, Sverige
Kritik: Snart 2årig feminin tik, välformat huvud med vackert uttryck, bra bett, bra hals och överlinje, något framskjutet framställ, skulle önska något längre bröstkorg, breda och fina lår, moderat vinklad bak, fina och väl knutna tassar, bra ridge, rör sig bra men med något kort steg från sidan.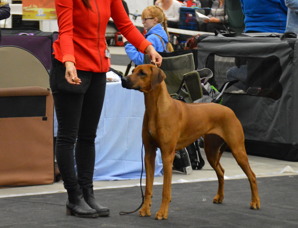 Sundsvall Internationella 10/10 2015
Junkl: Exc1, CK, 4:e bästa tik
Domare: Moa Persson, Sverige
Kritik: Lagom elegant med bra linjering. Välformat tikhuvud, korrekt uttryck. Fin hals, rak överarm, i övrigt normalt vinklad. Står väl på sina tassar. Välmusklat, brett lår. Korrekt ridge. Kliver på med bra kraft bak men ännu lite hjulbent.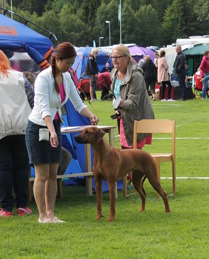 Svenstavik, 1/8 2015
Juniorklass: Exc2, CK, 4:e bästa tik
Domare: Manuel Veiga Vitor, Portugal
Kritik:
Typical, feminine head, would like more scull. Excellent eyes, ears, dentition and pigmentation. Excellent neck and topline. Correct angulations. Needs a little more chest. Excellent tail and correct ridge. Correct movements.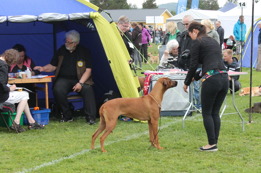 Piteå, 4/7 2015
Juniorklass: Exc1
Domare: Bo Wallin, Sweden
Kritik:
Utmärkt helhet, vackert välskuret huvud, väl könspräglat, utmärkt hals och överlinje, för sin ålder välkroppad, välvinklad med utmärkt skulderläge, aningen smal bröstkorg, rör sig aningen smalt såväl fram och särskillt bak, för övrigt mycket harmoniskt steg, utmärkt tassar, bra hårlag, synnerligen välvisad och trevlig, bra ridge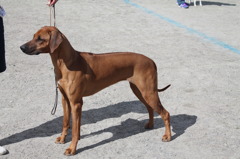 Piteå National Dog Show, 16/5 2015
Juncl: Very Good 1
Judge: Irina Poletaeva, Finland
Criticism:
Very feminine, correct proportions, good scull, muzzle still narrow, scissors bite, correct ears, high set neck, good withers and back, a bit sloping crop, still needs better fore chest and front angulations, good rear angulations, enough drive in side movement, front and rear movement could be more correct, good shape of ridge.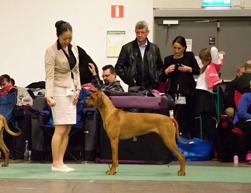 Stockholm International Dog Show, Swedish Winner 2015, 4/4 2015
Juncl: Excellent, oplacerad
Judge: Paula Heikkinen-Lehkonen, Finland
Criticism:
Normalt utvecklad elegant tik, ännu något högställd som helhet. Långt huvud, stopet kunde önskas mer markerat, mörka ögon. Aningen brant skuldra och överarm. Lång hals. Bra resning och överlinje. Välvinklad bak. Rör sig med drive. Korrekt ridge.